The Story Behind The DesignS
Divine Women T-Shirts feature our unique logo comprised of the rare purple lotus flower encased in the universal symbol for women.
The purple lotus, associated with kindness & awakening, was chosen for the inspiring way in which it emerges from muddy waters both beautiful and pure.
BUY A SHIRT, SUPPORT A GREAT CAUSE
All proceeds from the sale of CHASI T-Shirts will go to Community Health Action of Staten Island to support their "Strong Steps" program dedicated to helping Staten Island women and their families heal, thrive and flower in the wake of domestic violence.
For more information about CHASI,
click here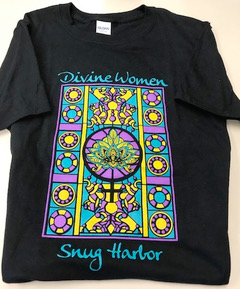 with gratitude to our t-shirt sponsors:
Dr. Amie Malihan
Dr. Josiane Lederman
Dr. Michael Costa
Dr. David Gruener
AND SPECIAL THANKS TO JESSICA INDELICATO HAMILL AND MARIANNE LIVOLSI FOR THEIR OUTSTANDING DESIGN AND PRODUCTION WORK IN BRINGING JOAN'S T-SHIRT VISION TO REALITY.